"All our dreams can come true, if we have the courage to pursue them"
The dates on the links below are when the updates to my autobiography / health diary were completed. The updates usually cover the time period since the previous one. There is overlap in what I wrote, as the health diary updates were originally written for a different site than this one. There are some specific topics which are named rather than dated, and these have been put in approximately when I was doing them / they occurred.
Well, it's about time I confessed as to what has really been going on with me this year. I've been keeping a secret ever since just before I did my hang glide. A couple of weeks before I went flying, the penny suddenly dropped, and I realised that I was pregnant!

As I have lived for some 16 years thinking that I am unable to have children, this came as a mighty shock. Getting pregnant wasn't really the problem, but bringing a baby to term could be, as I have a gyny condition which means that my womb is half the usual size (I only have one uterine horn). They call this a bicornate uterus, which essentially means that the womb instead of forming into one whole one, well, it hasn't fused correctly so there are two half sized ones!

In my case the left hand half womb didn't fuse properly with the vagina and as a result my periods collected up on this side when I was a young girl as the blood could not get out, hence causing extreme pain (contractions, I can only assume a bit like giving birth, only that is probably worse!).
The doctors operated and tried to correct this problem, but sadly the problem reoccurred as my body healed up the outlet they made. It was a pretty traumatic ordeal to go through as a young girl.

In the end they opened me up and took away the left womb and fallopian tube (as this was knackered anyway, from blood trying to surge back through it and escape out into my stomach!).
So although in theory getting pregnant shouldn't have been a problem, when you think that I have one fallopian tube, have had major sugary, I am irregular with my periods, I have been up against it with ms now for a long time, and I was trying not to get pregnant (though obviously not well enough!), it is quite a remarkable thing to have happened! (but as Steve says that's nature for you, that is why there are 5 billion of us on the planet, and we should never under-estimate nature!)

I was relieved, in a way, to know what was wrong with me, because I had been feeling very weird, very tired, hormonal (like permanent PMS- poor Steve), and not myself at all. I was wondering if I was going mad if I'm honest! But the thought of pregnancy, well I have no greater fear in life, nor is their any greater journey into the unknown for anyone never mind myself with my complications.
It's not just ms that complicates things with me, the difficulties I live with, the bladder problems, the fatigue, the leg spasms, the lack of mobility...my limits, but also this gynaecological condition, all the risks involved, no one knowing what will happen or whether that baby will make it and be ok.
And ms is a stress-related condition so did I really want to put myself through all that? Also, as a result of the trauma with the operations in my youth, and the psychological scarring, the way it affected my view of myself as a real woman. All this lead to my belief that I could never have children and was therefore not worthy of loving. And then the onset and aggressive nature of the ms, the remarkable way I have managed to stabilise the ms, and salvage my life, well the result of all this trauma is that it has left me with a baby phobia even if by some miracle I did end up with a little one!

It is as if I got ms to learn about self-respect and real, true UNCONDITIONAL LOVE, through meeting Steve. He got involved with me without conditions or expectations. At last I was free to be loved just the way I was, with the disability, health problems, risk of getting worse. The last thing I was expected to do what to produce children for him.
What I did do, however, was set him up in business on the internet selling his mobility scooters (that is how we met, he sells and repairs them for a living), only to see the business take off and bring him great success (and rightly deserved, now that is what I call pay-back for unconditional love!).
Oh yes, the fates have shone on us in the last 7 years we have been together. Yes, I have difficulties, and ms is very trying still, but I have stabilised the MS to a good degree, and have improved enough to lead an life of independence once again (though different, with mobility scooter, wheelchair, walker and stairlift etc).
I have good days and bad, but I now live in a lovely house which Steve and I bought together, and it even has a palm tree in the garden. I have all I could wish for on the doorstep, the shops, the healthy living centre (the swimming pool, the Gym), the supermarket, and even the tram to take me to town or wherever I want to go. I have been to the Florida Keys for 6 years running now, escaping the terrible Winters...to spend up to a couple of months in paradise in the sunshine and exercising and enjoying the pool.
I have been to Disney World twice, and Busch Gardens once. I have toured around Nevada, Utah and Arizona in a Campervan, for two weeks, visiting Las Vegas, the Grande Canyon, Petrified Forest, Shelley Canyon, Monument Valley, Delicate Arch, Goblin Valley, Capital Reef and Bryce Canyon. Yes, it was tough and a real challenging but yes I did it!
I have even toured South America for two weeks in November 2004, visiting Rio de Janeira, sitting on Copacabana beach, driving all the way up to Corcovada, to see the huge statue of Jesus up on the hill, then taking the cable car up onto Sugarloaf mountain, to see further fantastic views of Rio!
We then flew to Peru, visited the Capital Lima (smog city), Cusco with all the poverty and lack of oxygen, due to the altitude, made the huge train journey to Machu Picchu, where I was carried around all day by a strong little Peruvian gentleman called Frank. Then onto Iguassu, to experience the magnificence of the wondrous Iguassu Falls (it the debilitating humidity of the heat there, but oh the RELIEF from the spray of the Falls!). It is a difficult life still, but oh the blessings! I view myself as truly lucky. If this were it, then how could I complain?

And yet, somehow, though I often know not how, I seem to survive the trails and knock-backs with ms, somehow I seem to bounce back and life has gone on and on. It is tiring but I am so thankful that I am still here, alive and kicking!
Our latest plans were for another trip to South America, this time to visit Angel Falls, Easter Island and to take a cruise to the Galapagos Islands, another challenging trip, but to see such places, what a dream come true! But I kept telling Steve to hang on and await my late period, before he booked this trip, a period that never came (I had missed one but with my anti-candida diet, with it being so low in fat and sugar, well I thought nothing of it!).

The week before the day I was supposed to do the hang glide, I went to the doctors, and had a bit of a breakdown. "I've got ms, I don't know how I survive, I've got half a womb, I'm pretty sure I'm pregnant, I can't handle any of this, and I can't do a test just yet because the whole of Sheffield has just read in the paper about my plans to fly like a bird, and do this charity hang glide! at the weekend!". I explained to the doctor!
As "I know my body" I told him that, at the most I would be 4 weeks pregnant, so he agreed to let me wait to the weekend and get my hang glide over with before I had it confirmed. But he did ask me when my last period was and I could tell he was thinking that I could well be further on than I thought I was, and therefore it was vital to come back sooner rather than later, the very next week, if I didn't get my period before then!

The day of my hang glide came and the weather conditions were no good at all (I was gutted!), so instead I went to the supermarket to get a pregnancy test (of course they had run out so Steve had to get one whilst out and about later). I realised it was only fair to Steve to find out one way or the other! I didn't really need the test though, because I had been feeling sick and the day before had had a sudden and urgent craving for sausages, bacon, baked beans and chips, which is so unlike me, but my body needed to fat, and the demand could not be denied!!!
I did the test, left it on the bath, called the airfield in the vain hope of an evening hang glide, was told that the weather was no good, went back to the bath, picked up the kit knowing my life could be about to change forever, and looked at the result. There was a faint cross, so I went downstairs and told Steve I was "half pregnant", which quickly worked out meant that I was pregnant. Steve was a lot more matter of fact that me, well 'you're pregnant then' he said, put the test on the bookshelf and carried on watching TV.

I went back to the doctors later that week and we were given a referral to the Early Pregnancy Assessment Unit. I was spotting (breakthrough bleed) all that week too and felt really achy, so I wasn't even sure that I would remain pregnant for much longer anyway. I tried to protect Steve from getting to excited as I didn't want him to be disappointed, but he reassured me that he was fine either way, whatever happened!

We saw a nurse, notes were taken, and again the date of my last period was noted. I was still sure it was very early days, because I know my body! I felt awful because I was trying to manage my bladder so it was full for a scan, but with me, when you have GOTTA GO , you have GOTTA GO. I just kept thinking I can't even manage my bladder, never mind have a baby. I really did not want to be there at all. This could not be happening to me!

As it was early on in pregnancy it turned out that I needed my bladder empty for the scan as it was to be an internal one, and then I'm thinking, oh God, it won't empty on demand either, but it was OK (I worry too much, which only makes my bladder worse anyway!).
The lady doing the scan said, as it was early on, we may not be able to see anything yet, but the next minute she has turned the monitor around and there was a tiny foetus, in the shape of a tiny baby (about 1 cm in size), with a strong heart beat and everything! We were both amazed and shocked. I was about 8 and a half weeks pregnant already!

The lady gave us a print out of the baby and said not to look at it until we left the Unit, "as not all couples have such good news". Steve being Steve was thinking "what good news...I've just found out I'm not going on holiday" and I appreciated the irony! Good news is all relative in a place like that! We certainly had mixed emotions. It was an amazing thing to see, but also a very scary thing for both of us too.
Steve was sure, from that moment on, that the baby was going to make it and started yelling "Mum, Mum" at me whenever he came in the door. For me that was way to soon but he just had an (irrational) gut feeling that it was meant to be. I wish I could have felt that confident. I just kept thinking we have a long way to go yet but I consoled myself that even if I did lose the baby, we would always have had that experience of seeing our tiny little one on that monitor.
I still didn't really believe that I was pregnant (not sure that I even do now!) and definitely didn't believe that I could bring this baby to term, but I did not feel it was for me to decide. Though idealistic, we both felt that we should give it a chance and leave it all to fate, my future health and well-being included!

10 days after my originally planned hand glide date, I was given the thumbs up to GO FLYING. It was still early days with the pregnancy (about 9 weeks) so although it was a bit naughty of me, I just kept it all a secret from the world and did it! Thankfully the morning sickness happened had decided to give me a break that particular day, and the FLIGHT WAS AMAZING! I was so relieved too to have got it over with before it was too late!

Since then I have taken the pregnancy day by day and from week to week. After the first trimester the morning sickness settled down and if anything I have been a bit better on my legs and with the MS (that is usual with ms).
I didn't tell my parents until I was almost 12 weeks, partly because I wanted to protect them in case I lost the baby, but mainly because I was just trying to get my head around it myself, and I was scared they would bring the realities of it home to me. I had already had one abortion (which nearly destroyed me) and could not bear to have another one- even if the price to pay was to be my life!

But when I did tell them I was surprised, because although my Dad was shocked at first (and has since come around, especially now he knows Steve and I have done Wills - just as a safety net), my Mum was supportive straight away. She immediately got the feeling that this was meant to be, which was a big relief to me. A lot has changed over the years and she sees all that I have done and achieved overcoming and living with ms, as training for this next chapter, and she has a great deal of faith in Steve. I clearly should not have underestimated her. My Dad is very proud of me too, and now that he has got over the unexpectedness of the news (my Mum knew that I was about to say something very big as only Mum's can know), he too, though protective is being very supportive!
The 12 week scan was pretty amazing, seeing the fully formed little baby (who waved at Steve, he swears it did!), as was the 20 week scans, seeing the tiny hand with tiny fingers and everything.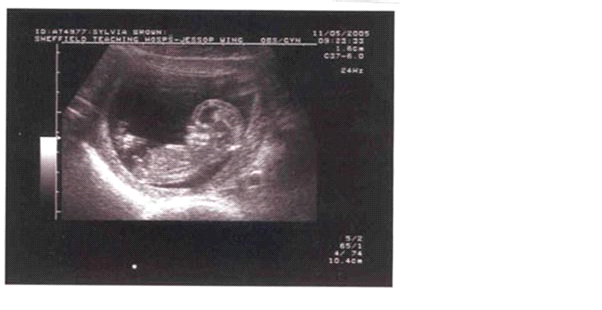 After this scan, however, having been told all was well at this stage, it was quite tough to be told by the Doctor, who had only just read my gynaecological history, that no one could really predict how long my womb would hold the baby for and what the outcome would be. In fact the doctor was asking me what the consultant had said back when I was a young girl. That wasn't very reassuring at all.
From 20 weeks I was scanned more regularly, every 3 or so weeks, because 20 to 30 weeks were the most crucial time for me and the baby. If the baby had come earlier than 20 weeks, there was nothing they could have done, I would have miscarried and the baby would not have survived, so there was little point in more regular scans. From 20 to 30 weeks, though premature, babies can survive (well from 24 weeks onwards anyway and the further you get the better the chances and the less risk to the babies health of course!). From 30 weeks babies have a good chance of surviving and being healthy and from 32 weeks onwards, to quote the Doctors words although the baby still needs care "the baby is home and dry" (although they still need special care).

At 20 weeks though 32 weeks seemed a long way off! In fact the whole pregnancy to date has gone very slowly for me. At 20 weeks we had the scan and then went off for a weeks holiday in Berlin, which we thoroughly enjoyed!

Since then I have been also given two internal cervix scans, one at 21 weeks and another at 24 weeks, and this time the consultant was very encouraging. He checked the length of the cervix, as any shortening can indicate a weakness in women with my condition but thankfully mine was all normal length with both scans (and therefore normal strength we can assume) so after that he did not need to see me again! In fact the last thing he said to me, is don't worry too much about there being enough room for the baby to grow, and though the baby may come early don't assume it will be premature!
My latest scan was last week, and 29 and a half weeks and all appeared to be well. The babies head was about 7 cms with a circumference of 27 cms, femur (thigh) bone length is nearly 6cms and an estimated weight of about 3lbs!

I didn't really feel the baby move until I was about 25 weeks pregnant (I kept joking I must be an insensitive Mum) but now he flutters away in my tummy a good amount which is reassuring! Thankfully he doesn't kick me too violently yet, though he does seem to think my bladder is a great football! We have not confirmed the sex, but we have a strong feeling the baby is a boy!
My bladder has gone from bad to worse which I expected (I had to come off the medication to calm my overactive bladder down as soon as I realised I was pregnant and now there is a baby sat on it!), but thankfully, it is still manageable (just!). Since this last scan last week, which revealed that the baby is still breach, I have really realised that I do have 3lbs or so of baby in my stomach, and it is a scary realisation and a daunting one, especially when I also cannot know how long this baby will stay in my tummy for. I can feel the bulk of the head, and sometimes it has been right up against my ribs on the right had side (my womb is on the right and as a result so is the bulk of the baby!) and has caused me some discomfort. But thankfully the baby does move around so it's not been in that position all the time, and it is OK I think!
I was thinking, Christ, if it's causing problems now, what will happen later when it gets bigger and bigger, and part of me worries about that, part of me is fatalistic, and part of me realises that this may be pretty normal! I try not to worry but there are just so many unknowns and it is very daunting!
Also the realisation now that the chances are good that I am having a baby that is really hitting me and triggering a lot of anxiety about the birth or c-section, and how on earth we will cope as parents to a newborn baby- never mind worry about him being healthy and preferably well-behaved (babies can vary so much and the horror stories about babies crying constantly 24 hours a day do not help!).

I have been experiencing a lot of leg spasms of late, and my right arm twitches sometimes too. It's an overall kind of restlessness and as you can imagine, it can prevent me sleeping, and then fight or flight sets in, and before I know it I am in a real state of worry as to how on earth I will cope with my upcoming future. I just feel so fragile and vulnerable.
My Chi machine and massaging the tight band of muscles in my spine do help alleviate the spasms but what I really want is cannabis or some medication, which of course I can't have! The more anxious I am and the more I get stressed about everything, the worse it all becomes of course, so I am trying to avoid that whole vicious cycle.
I can't avoid the reality, however, that I do have problems, limitations and all this is really happening to me and it is going to be tough beyond words. This will be the biggest test of all to date. I don't know if I can remain stable with ms, and that is a very frightening prospect.

I have managed by the grace of God to salvage my life from the claws of ms, but have ended up with a life which I live by many rules, namely a good amount of rest and self-care, a healthy diet, the avoidance or management of stress, drinking plenty of fluids daily so as the avoid UTI's (Urinary Tract Infections), and therefore staying close to a toilet and managing my bladder urgency! I live on the whole within these comfort zones and manage pretty well. Break these rules and who knows what will happen.
I do spend a lot of time feeling pretty ill and fatigued anyway, even with good amounts of sleep, that is just a reality that many people with ms live with. I feel like a different, and very anxious and dysfunctional person at times. I can feel so fragmented (and it's usually a bug or UTI that triggers it!). It's not the true me at all and it is very unsettling. At these times it is easy to let the anxiety take over, the panic, to feel bad about myself, to get stressed out at the slightest thing, and it isn't any fun at all. You just have to ride the storm with faith that THIS TOO SHALL PASS!
Coping with a baby at such times, is a mind-blowing prospect to be honest, but I do know of single parents with ms who have to get on a do it all, no matter how they feel, and I have nothing but sheer respect for them- families often have to pull together too. I have a good man as a partner and a supportive family so once again I count my blessings!

Also babies disrupts all these routines which (I believe) give me the stability and functionality that I do have. Remove the routines, the rules, and ms may well progress! The prospect of getting worse, or bugs or UTI's, of fatigue, bladder problems and feeling like crap most of the time is not one I look forward to.
I will have to work out a way to make this work so that I remain well and functional enough to be a good Mum and partner to Steve. I have realised that I do have health limitations and beating myself up about them is not going to help. They are not my fault!
I don't know why I am still here, or why this baby is happening, but it is! Dealing with my actual baby phobia is another matter as well. Babies do terrify me as I know so little about them and the disruption that a baby can cause, well, to me it is life threatening. I am just hoping that I will bond with my baby and that there may be a lot of pluses to this experience that I am not able to expect or imagine (because of my past).
Right now, of course I care about my baby and want it to be ok, healthy and happy, but in a way it still feels very foreign to me. It is still all very surreal and unreal!

We have started going to parent craft classes, and have now attended two of the three sessions. The first covered the 3 stages of labour and the second breast and bottle feeding (expressing and sterilising etc.) which have made it all seem a bit more real.
But part of me wonders what I am doing at such a class. After all my bump is so neat, I'm not big at all compared to all the other women there, so once again, I wonder if this is real (I'm very good an denial!)?
I think it is partly because I'm so slim anyway, and also because of my healthy diet (nutritionally this baby must be the best fed in Sheffield, at least I seem to have done that right), because I don't use pregnancy as an excuse to eat exactly what I like! They may call them cravings but I think half the time this is a excuse, my cravings settled down around 12 weeks when the morning sickness subsided!
My recent cravings, have, I believe been more a yearning for comfort foods than anything else! I think this is probably a common feeling with any expectant Mum as the birth draws closer (and in my case could be at anytime!). Anyway, Steve just tells me not to complain that I am the most beautiful woman at the class!
He is funny! That reminds me, at the first class we went into the wrong room, and ended up in the class for twins and triplets, only Steve thought they said it was the room for strippers which everyone chuckled about. He then understood what the class was for and commented "Oh, so you have to have tow or three to come in here them, that means, then he put hands between legs and shuffled out of the room with his head down...saying we've only got one, that means we're not good enough! I'll try harder next time, making everyone laugh again.
Also at our first scan, in what Steve dubbed the "room of doom", as everyone was so quiet and solemn in there, there was a program on the TV blaring away, and it was Trisha. She was talking to a naked man, and she asked him why he was naked? He replied there was nothing sexual about it, he just like to be naked. To which Steve commented loudly "Yeah, I said that two months a go and we're in here now"...so breaking the ice and making everyone burst out laughing!
And so to Steve, well, he is my rock! Though also daunted and scared by the prospect of parenthood, he is ready to be a hands on Dad, and to do whatever it takes. He is being so caring especially of recently (which have been tough for me), he is very faithful, and he says if he can't look after me and that tiny baby then NO ONE CAN!
The one thing that came be said about Steve, is that when the chips are down, whether he wants to or not, HE ALWAYS COMES WITH THE GOODS! If the baby is anything like him, I know I will love it.

He will be a great Dad (a reason we could not intervene- he wanted to be the best Dad- and intervening would have made him the worse Dad- that said it all to me- we were at a low point when we had this discussion.)
Steve has always had a sense that he's have a baby around the age of 50 anyway (he could have told me!) and he's 49 now so for him the timing is ideal, if he was going to have one, not that he was fussed either way. He'd still be happy to settle for a life with me, world travel, long holidays in the sun and his gorgeous six classic cars (maybe he can still have all this and a child?)

My gut has always told me that this baby had a real chance too if I'm honest...but again that belief is not rational (and irrational beliefs can lead you up the garden path!)- but it's my head that has ruled it all out, and has thought (and still thinks) negatively, though I am trying my best to change my mind-set.
After all this baby had it's Daddy's genes (strong genes) and it is surviving and dare I say thriving against the odds- just like it's Mum! I am a living walking miracle already and mustn't forget that. The last 7 years of being relatively stable with ms have been a real bonus and I am so, so blessed!

Steve's priority is my welfare, especially after the birth or c-section (they will take it as it comes with the labour. I will see an anaesthetist in a couple of weeks). He doesn't want me to get stressed and worn out, so he is even prepared to hire a nanny if that is what we require (thank goodness we are financially secure enough to have options thanks to the grace of the universe and fate smiling on our teamwork in business!).
Obviously he will have to move in here (no more bachelor flat for the first few months at least) but even the fact that we do have two houses could be a blessing in a way. Because of all the uncertainties with this pregnancy we have not yet bought anything for the baby (I don't want to tempt fate!). All I have is one tiny nappy and one tiny hat from the free Mothercare baby pack!
So in a way we are unprepared, but Steve is the type of person who will get on with it all when the time is right. We have just converted the garage into another room to give us more space downstairs, a proper dining room, and whatever else we need (a baby changing area, a playroom), and this was something we had not got around to until now, but Steve has ensured it has all happened this Summer.

Just this week though, because I have felt so anxious and ill at times, I have realised that I am being unrealistic to expect myself to cope as any normal Mum would. After all I have hauled myself back from a life of 20 hours care a week, to suddenly expect not only to manage myself, cooking, self-care- which I can do now- but also care for a tiny person 24/7 too. That is probably unrealistic and will just make me ill, so we have to find a way to make this work between us!

The truth is that I may not be able to do all that most Mum's can do and that makes me realise the enormity of my decision, in leaving the outcome of the pregnancy to fate. I truly feel that I am laying my life on the line here- and in a way it was a most unloving thing to ask myself to put myself through, wasn't it?
Some of my problems are with myself, in facing MY MYSELF AND MY GREATEST FEARS, but some of the limitations are real and tough! Working out what is real and what is a fear and what my limits really are, however, it a big challenge, and there is only one way to find out what the future now holds...and that is to face this uncertain future which I have now created!

For me simply running away from all my fears, however, wasn't really an option. Had we intervened I think I would have lost the Will to live anyway because I couldn't just pretend that conception never happened. It would have always been there...all the unknowns I am now facing. Without a doubt, this involves the biggest leap of faith in my life yet. When they said in the paper that Sylvie was going over the edge (with her hang glide) they were not wrong!

In an ideal world or course we'll all live happily ever after but, as we all know, this world is far from ideal, the future is unknown and in reality anything could happen. It may be that I am destined to have this baby but that it will make me worse and I will die (not that I believe this will happen) but in this scenario I would have no regrets. I've already done so much more that I ever envisaged 7 years a go. Death doesn't scare me. It's life that is the scary prospect for me now!
Getting worse with ms and being ill and feeling like crap- that is what scares me far more than death- and also becoming an unhappy and horrible person to be around. I don't want to be like that. I want to be a good Mum and a loving partner to Steve, or I'd rather not be there at all. To me that is a far worse scenario than death. If I died Steve would look after the baby, move on with his life and be OK-and that is what I'd want!

But I have a feeling the next chapter is for me to experience and live through too. So we have to work out a way to ensure that our future will work for all of us!
In my dreams this will be prove to be the best thing we ever did though right now that is really hard to envisage! I still cannot yet get my head around having a healthy baby, knowing it is healthy will be a huge relief in itself. Maybe I wasn't listening in school when they taught us about the birds and the bees because I can't understand how my body can be creating a tiny little human being that will call us Mummy and Daddy! (it is a remarkable thing anyway but for me it was those operations as a young girl that left me with a very strong belief that for me this was just not possible!).

So that just about says it all about what has happened so far this year! Up until the last couple of weeks, with the anxiety, leg spasms and discomfort, really the pregnancy has gone like clockwork and (morning sickness apart) has been a breeze, so once again I feel very lucky.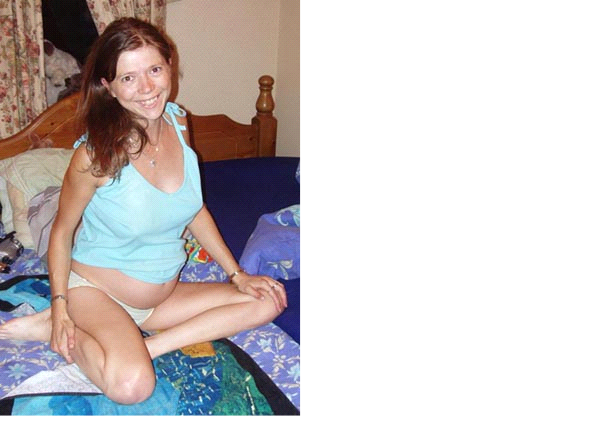 Me now at 30 weeks with my tidy bump!
Officially I am due to have the baby on November the 19th, but with my uterus, well, anything could happen. Maybe I will be totally wrong and that a c-section may not be necessary, maybe a natural birth may be possible, maybe I can avoid an epidural, though this is hard to envisage (I am worrying about incontinence and fatigue -and understandably- but will have to trust the doctors).
Still I seem to have been wrong about pretty much everything else in how this pregnancy was going to pan out, including the date of conception, so you never know do you! So much for little Miss "I know my body"!!! Steve never misses a chance to wind me up about that and remind me of the fact that I have been wrong every step of the way so far! So maybe I'd do better to remember what he says, NEVER TO UNDERESTIMATE NATURE!

Anyway, for now I am now focused on the next hurdle and surmounting it, which is to get to the 24th of September (32 weeks). I will have another scan around this time and we'll see how baby is doing and take it from there. Ideally I want to get to 36 weeks - 24th of October- before having the baby - but as with everything this year, it is all in the lap of the Gods, so wish me luck. I think I may need it.
I am also focused on trying to use self-hypnosis to control my anxiety (though I don't seem to be very good at this) as well as positive affirmations, but it is very hard to succeed at times. I've been living in the present all the way through this pregnancy, but suddenly the future is creeping up on me and I need to be as prepared as I can be without making myself worse with the worries of it all. Denial can be a good thing but you can't live your life in denial forever- that is partly why I am talking about it all now on my online diary- because I'm at the stage now where I at long last feel that this is real.
This is without a doubt the biggest and scariest journey into the unknown I have ever taken- AS YOU CAN SEE, I TRULY AM DOING THE IMPOSSIBLE NOW IN MORE WAYS THAN ONE-, so please think of me and pray for a positive outcome for all 3 of us!
26/9/05 - Update-
Well the 32 week scan went fine. All seems to be well. This is a milestone because, although babies born after 32 weeks are still premies, they aren't up against the battle and health risks earlier arrivals are!
My baby is slightly below average in size, but still within normal range!
Because I wasn't feeling the baby move as much they put a belt around me to hold a sensor on my tummy after the scan so we could hear the heartbeat and any movements are picked up! (they call this a trace).
Reassuringly the baby is moving fine, I just don't always feel it.
We saw it moving on the scan too...wriggling about and it actually had hiccoughs...but I didn't feel it at that time, just shortly after I did, in fact my whole tummy with jumping about! (some good kicks or punches going on in there!)....typical I tell them it's not moving much and then it does a jig!!!
They are to monitor me week to week now though, as from 32 weeks onwards a lot can happen in a week!!!
The only problem I have is that I had nitrites in the urine sample, so probably a UTI. They are sending if off! I knew I had one, and had been feeling quite wobbly and ill for a reason, but it's just what SEPTEMBER does to me!
They would want me to take antibiotics of course if it is, because it is standard procedure, and UTI's can trigger premature labour...but I'd prefer to do it my way, because I knew I had one anyway, and drinking loads and having cranberries work well for me!
What I really won't want is to start on that vicious cycle of antibiotics and recurrent UTI's at this stage (because it is the season, my immune system gets low at this time of year so antibiotics won't necessarily fix the problem) because realistically I may need them later, say after a c-section or birth (may well have in-dwelling catheter etc.) and although one lot would be fine, several would be a disaster.
In the past I have had recurrent UTI's at this time of year, and used
several courses of antibiotics, and ended up landed in hospital with a relapse and then had steroids. Now, that has to be avoided...
So I'm drinking loads to try to clear this. It's not as bad as last week anyway, and what they did not know then, by being unaware, well they didn't concern themselves about it, so I wasn't forced into antibiotics etc (not that anyone is being forced yet but they may want me to later in the week)....and I've not gone into premature labour or anything!
So with any luck I'll avoid antibiotics at this stage, and once the weather settles (well by November) my immune system should recover anyway, so less UTI's and less wobbliness, and less leg spasms... it is all linked!!!
The baby had come this far, so the baby will be fine as long as I rest and treat this by drinking loads. That can be my job right now!
I also saw the anaesthetist today and he was very nice. From the point of view of pain-relief I am classed as normal, because ms doesn't really affect what you can be given, but it was reassuring to discuss the options and what may happen.
As the baby is still breech, I may well just get booked in for a c-section towards the end of the pregnancy, should it go that far without premature labour!
In a strange way I think that may be simplest, but there is no rule book so we'll just take this as it comes...a natural and relatively short birth would be a dream!
Sylvie x
27/9/05 - Update -
Course after just one day of drinking loads yesterday, with Cranberry from Nature's Best, Grapefruit Seed Extract, and garlic...and I feel brill today!
Still drinking lots though as it's rough time of year for me with my low immune system...which is being even more suppressed than usual by pregnancy hormones!!! It's complex immunology though isn't it, because, technically speaking, a depressed immune system should make me less likely to relapse, but in my case, any bug or UTI, can trigger ms progression, and makes me feel like I am dieing!
How to explain MY BODY AND MY EXPERIENCES TO NHS DOCTORS THOUGH, I do not know? It's just not textbook is it? But in my experience the frequent use of antibiotics triggers ms relapse- probably through candida and leaky gut- but they will just label me 'alternative', paranoid and crazy!!!
29/9/05 - Update -
Resisting the antibiotics for E.Coli infection in waterworks found on Monday seems to have worked...as I've clearing it myself...urine sample took to hosp this pm was clear- YEAH!
My formula was cranberry powder from Natures Best, 2 litres + water a day, 15 drops of Grapefruit Seed Extract (GFSE- Citrical) twice a day, and lots of raw garlic (usually on avocado on rice cakes or with apple)....pretty yucky but hey it worked!
I always get E. Coli and reckon is stems from the bowel (gets across) or gut (via leaky gut syndrome).
I am trying to avoid antibiotics because I may well need then after
birth/c-section, and will take them then if necessary...but not when it's mild, my temp is not up and I feel well!!!
Too many courses of antibiotics tends to, in my experience, lead to gut flora imbalance, and leaves to door wide open to ms progression...just a theory, may be wrong! So I'd rather avoid going down this path...which seems to have landed me in hosp in the past and then on steroids!
The best thing about today is that I think that if samples show up
infections again before I have this baby (which is likely as so prone in the autumn for some reason)- though I will continue to drink loads to try to prevent them- then the doctors will TRUST ME AND MY WAY TO CLEAR THEM so there will be less pressure to take the antibiotics time after time which could lead me down a dangerous path...for me (I believe, like I say, could just be me and my paranoia about these drugs...gotta keep an open mind- but for now that is my reality based on my experiences over the years!).
Of course, if I was relapsing and had a temperature I'd be the first to demand immediate treatment with antibiotics! They save many, many lives!
Sylvie x
3/10/05 - Update -
Hi Guys,
Another check up, another trace (monitor on tummy and heartbeat and
movements monitored for some 15 mins- you have to press a button when you feel that baby move!), and we are at 33 weeks now and all appears to be well!
I've been feeling brilliant since last Wednesday, then today (after a rough night, a bit of leakage from bladder, and worry that it might be amniotic fluid!) I have felt really crap!
This I may have overdone things at the weekend what with feeling so well! I did go to the Gym 4 days in a row before today- oops!- but it is so tempting to get carried away when you feel good, isn't it!
There was no obvious UTI today- though they are sending the sample off to make absolutely sure.
I blame the weather, suddenly it has gone from quite warm, to very cold again today! These sudden temperature changes really mess my immune system up and confuse my bladder. The baby pressure could also have triggered the incontinence episode (they checked fluid around baby and it is fine!).
I talked at length with the midwife who looks after lady's with
disabilities or special needs, and that was helpful. They will try to get me into a specially adapted room on my own on the ward after the baby has arrived. This midwife also said to talk to the Doctor next week, as if I requested a caesarean then I'd probably just get one.
As the baby is breech this may be the likely scenario anyway, when you bear in mind my ms problems, and the strange angle of my cervix and womb, pointing up off to the right and the fact that the baby is growing well and may well run out of space to turn around with my half sized womb.
What I want to avoid is hours of labour, then being met with complications and then having to have a c-section anyway!
For me it's not so much the pain of labour, as the fatigue, stress and worry. I want what is SAFEST FOR MY BABY! So will talk to consultant next week when she is back (I had a nurse under another doctor in charge today!).
The baby still seems to have choice as to where it sits, but I can't see this pregnancy going to term. I'm wishing I have more fat on me now to pad me out, as this head digging in my ribs can get very uncomfortable, but I guess as long as the baby is ok (i.e.in enough fluid to keep it safe, padded and protected) that is the all important thing (I worry too much).
Discomfort I can do as I am a tough cookie and the 3rd Trimester in pregnancy can be most uncomfortable!
My Dad came with me to the scan today to share in the experience and he was very impressed with the care and very interested in the technology. They had no such scan and monitoring machines back when my Mum was pregnant with me and my brother!
The scan lady was kind enough to do me a scan print out as well! I find them rather surreal, makes baby look like an alien in a way, but amazing never the less (the further on you get in pregnancy the harder it is to read the scans!).
You can pick out the facial features: eyes, nose, mouth, chin, looking at scan sideways starting on the right...and there's also a tiny hand! Awwwwwww!
All the best
Hugs & Smiles

Sylvie x
Take care
Hugs & Smiles
Sylvie x
6/10/05 - Update -
Hi Guys,
What is it about this time of year and Urinary Tract Infections. Some of you have had bad ones. I guess I'm lucky in that the E. Coli one I have is low-level, so no symptoms, no ms worsening, and no temperature...just the pain of having to drink and pee loads.
Though the urine sample that I handed in at the hospital on Monday was clear of Nitrites from the stick test, because I was feeling so rotten that day, they had it sent off just to check it...
And it came back showing the E. Coli bug in it. No surprise there really, as whenever a sample is sent off there is usually something in it (usually E. Coli) especially at this time of year.
The Doctor is happy for me to stay off the antibiotics as I'm not feeling terribly ill (just a little under the weather)...for now anyway, as long as I continue to drink lots and call them if it gets worse or if I get a temperature...but it really pisses me off, not just having to drink so much with my terrible bladder (with baby sat on it making it worse and worse now). It is a bind...WHAT IS WRONG WITH ME???
I've just tried to get hold of my Neurologist to see if she'll do blood tests to see what my neutrophile count is, because I feel as though my immune system is terribly low (making me prone to all sorts, it has been at this time of year before, but I've not been pregnant before, so it is a bit more serious now, not just about me!).
I'm also going to pay for a gut permeability test, to see if my gut is leaking. Knowing that it isn't will be important, as this means the source of the UTI isn't stemming from my gut. If it is leaky then at least I know what I can do to heal it and try to fix the problem.
But it could all just be low immunity (ironic when you thing ms is thought to be an overactive immune system!)....or bladder retention which is getting worse as I can't gently press on bladder now to aid it emptying, because there is baby in there and I have to be really careful. At night I am waking and wanting to go as I have bladder spasms as usual, but I can't pee so sleep is getting more and more disrupted. Self-catheterising won't help as, although this empties the bladder, it causes further bladder pain after a short while, and I can't keep irritating and exacerbating the bladder like this. At other times I wake with real bladder urgency and it's hard to sit up now with my tummy, I have to turn onto my side and sit up and sometimes I start to leak a bit before I manage to get onto the commode by my bed!!!
Or it could be cross-contamination from the colon/bowel, as I am having trouble with constipation (alleviated only by the odd enema) and terrible wind right now, which again causes bladder pain and disrupted sleep!
Oh the joys of MS & pregnancy, huh!!! What a combination!
And yet, this is the easy bit really...the calm before the storm!
Sometimes I wonder what on earth have I done! I feel totally irresponsible, but you can't control all that life throws at you, there are so many unknowns and variables...you just have to follow your heart and get on with it!
Whatever the trouble is making me prone to UTI's in general, it is scary, because of the implications for my longer-term future. Having to drink and wee so much makes me feel like my life is a joke in a way. I just WANT TO BE FREE! If I fail to drink as much goodness knows what will happen with my health and the MS! And yet I don't feel as though I can live like this forever! Oh, dear, I am feeling sorry for myself today aren't I!
Bottom line is that I am very lucky to still be here, alive and kicking! It's just still very tough at times, isn't it, and it does get you down!
Sylvie x
Update 12/10/05
Hi Guys,
Well I'm 34 weeks and 4 days now...
All seemed to be well today though amniotic fluid levels are a bit below average, and the baby is still breech.
They think it is unlikely to turn so want to bring me to 38 weeks if possible, and if it's still breech then give me a caesarean.
Sounds like a reasonable plan to me.
They took some blood to test my neutrophile count on my request anyway, and I have a Neuro appointment next week! I also had another injection of anti-bodies due to my blood being Rhy -ve.
Though urine sample passed stick test, they are sending it off because it is likely I still have this E.Coli infection...would explain the way I've been feeling, so the pressure in then on to take the conventional treatments of antibiotics...quite a dilemma for me.
If it is the UTI making me feel like this then I do need to clear it up. But I don't want to start on that vicious cycle of taking antibiotics when it's not really necessary, and ending up with the exact same UTI back again after finishing the course...then needing more and more. The time to take them would be before giving birth/caesarean...so I'm as strong as possible for that event!
But it is all too easy to get fixated on this being the cause of why I am feeling under the weather...and that in itself triggers the whole anxiety cycle I'm living with, what if the real problem is simply my anxiety?
I feel caught between conventional and alternative medicine at times and neither necessarily have the answers to my difficulties!
Can't imagine going through that feeling so run down!
Sylvie x
Update 19/10/05

Hi Guys,

Well I've been having a rough week with bladder incontinence, and I've not been 100% sure that the leakage is urine, though I have been pretty sure it is. My body is just under a lot of strain now.

What is ironic is that the hospital never phoned me last Friday so that urine sample must have been clear from E. Coli. I think some bacteria got across from my bowel though today, in spite of my best efforts to avoid this, because I've been getting bladder pain and a bit of cystitis this afternoon,so I'm back to treating myself as if I need to flush some E.Coli bacteria out (the urine sample I gave in this afternoon at my anti-natal appointment passed the stick test though, so no obvious infection there).

Last night I woke to found there was liquid in the dry-nites nappy I was wearing...which I assume meant that I'd weed but without waking up as per usual. It is rare that this would happen but with the baby sat on my bladder, it wouldn't have come as a great surprise.

Today I was my Neurologist and have an anti-natal check-up afterwards.

My Neurologist seems pretty happy with what I am doing, and has faith that I will be ok and cope well. So that was good to know. She's always there if I need her.
At anti-natal the trace went fine, but from the scan it appears that the babies growth is slowing down and the amniotic fluid levels are even lower (so maybe I have been leaking?). I also get the feeling that it's pretty tight in there for the baby now.

So the decision has been made to perform a caesarean next Thursday, October the 27th, as the feeling is that the baby is probably running out of space and would be safer out than in. That will be a close to 37 weeks, which they think is pretty good going.

So suddenly it is all happening and all very shocking! I'll have steroids to help the babies development on Monday, and have another check-up then. Then on Wednesday afternoon I will see the anaesthetist and I'm booked in for the c-section early on Thursday morning. I'll be the 2nd one of the day at around 9am though obviously I'll have to get there earlier, or I may even stay in the night before.

So anyway, that is the plan, but really anything could happen even before now and then. I did notice a tiny bit of blood in my urine in the hospital and I told then but they weren't too concerned. I am still somewhat in shock trying to take on all this news and feel even more sick than I have been doing (this was due to a late resurgence of morning sickness and some anxiety of course- quite natural at this stage!)

I am very scared. It is all seeming mighty real now and there is no turning back. I just want the baby to arrive safe and well and be ok! I'd also like to be pretty well myself, make a good recovery and cope with Motherhood, but all that remains to be seen. It's going to be hard the next chapter whatever happens, but at least everyone else have faith in me!

Well that's all for now.

My job now is to try to rest, relax and prepare for the big event.
Wish me luck!
Take care
Hugs & Smiles

Sylvie x
This page was originally posted on the health diaries site, it is still there but also been posted here in case that site disappears, below are the comments that are posted there in response to my diary blog.

Hi Sylvie, Steve and baby,
I just popped into MSRC tonight for what I thought would be a quick check on things and spotted a post of yours Sylvie with the link to here with your story so far on pregnancy. I was in the middle of pureeing Ava's veggies and got hooked reading your story which as always was a great read! You and Steve will make fantastic parents, no doubt about it!
Us three are doing ok..I'm shocked I've not relapsed yet but I know my limits(sometimes anyway) and try not to break those rules(as you put it ;) ) that used keep my MS stable. Keeping those rules are impossible with a baby but I'm beginning to adjust my life at last so that I keep as many of those rules as possible and still be as good a Mum as I can be. Kieran often tells me I'm trying to do a lot more than most Mum's and It probably is silly cause if I relapse we could be in big trouble! But like most Mum's I want to do best for my baby and if it means burning the candle at both ends I will...i'm sure you know what I mean. It's not easy but in our case we don't have the money to get a Nanny or any help like that and to make it worse our families haven't been much help even though I was promised loads before baby was born...but my family are strange..because I look ok I feel they doubt my MS symptoms constantly and it really really hurts me at times. Anyway I'll stop babbling on...just wanted to touch base and leave you know I'm thinking of you all. I don't pray but I'll have all me fingers and toes crossed for you guys :) Hugs, Edwina
1. Posted by Edwina on September 19, 2005
Ahhh! I keep coming back here checking for updates and didn't think there were any. I didn't realize you kept adding on to the bottom of the same entry!! C-section seems like the right thing to do, for sure. A Scorpio baby for you!! My thoughts are with you and I'll be praying all goes well on the 27th. xoxoxo
2. Posted by Donna on October 20, 2005
Thank you for sharing your special news. You have been a great source of information over the years and this is such a great gift for you!
I will continue praying for you, Steve and baby. Hugs and love to all.
3. Posted by PF on October 20, 2005
Congratulations Sylvie!! i hope the best for you and your new baby as well as your partner. Good luck to you and take care.
4. Posted by gary on November 13, 2005