"All our dreams can come true, if we have the courage to pursue them"
The dates on the links below are when the updates to my autobiography / health diary were completed. The updates usually cover the time period since the previous one. There is overlap in what I wrote, as the health diary updates were originally written for a different site than this one. There are some specific topics which are named rather than dated, and these have been put in approximately when I was doing them / they occurred.
My Roller Coaster Trip of a Lifetime!
Had I know what I'd be taking on with this trip, before I departed, I doubt that I'd have dared do it. However, when you have already embarked on a ride with a schedule from hell, then there really is NO going back!
When my partner Steve asked me if I'd like to go to Rio de Janeiro In Brazil, my response was immediate, "Yes, let's do it". The next minute we were booked on a trip not just to Rio, but also on a 4 night tour of Machu Picchu in Peru, and a 2 night tour around Iguassu Falls in Brazil, and finally back to Rio. My first task was to research, which vaccinations I'd need for these travels in South America. I was very relieved to discover that I didn't not need to take Malaria tablets. However, the Yellow Fever vaccination was mandatory in order to get back into Brazil after visiting Peru, and Hepatitis A and Typhoid were recommended also. I decided to have all three jabs because you can contract Hep A and Typhoid from food, (tap) water and ice, and they are pretty nasty illnesses. I didn't want to take the risk of getting them. I had the Yellow-fever vaccination (£35) one week, and the Hep A and Typhoid in one jab (Free) the following week, and although I felt a bit rough on the days after, I sailed through this rather well.
Before the trip we spent 3 weeks in the Florida Keys, as we do every Autumn, then flew on from Miami to Rio de Janeiro, where we met up with my brother, Matthew (or Sir Stan Ghost on the MSRC Message Board) (it is always good to have back up!). Although it was an 8 hour overnight flight, I am quite used to long flights nowadays, and it passed pretty quickly and I handled it well. I made sure my seat was just a few rows from the toilet, even though this meant walking all the way to the back of the plane. My experience of flying in general is a very good one. The air staff are always very helpful, they let you board first before the crowds, and I order a special vegan meal (the closest I can get to best bet food).
Upon arrival in Rio the first things we had to negotiate was the touting taxi-drivers at the airport. As soon as they see a wheelchair and a mobility scooter they try to 'up' the fare for the journey. However, we weren't having any of this. We found a decent taxi-driver, negotiated the fare to Copacabana beach before we got in, then Steve set about fitting all our luggage into the estate car (they don't call him 'Stack 'em in Steve' for nothing!).
We then got our first glimpses of Rio! First a church standing alone on a hill like a siren attracting tourists not ships to see it's hidden treasures. Within minutes we are plunged into a completely different world, our minds bouncing from wonder to fear mixed with curiosity as we travel by shanty towns perched on hill tops all stacked on top of one another.
Through the tunnel and onto a world of complete contrast, filled with riches and beauty, with colossal mountains, sharp and high, reaching to the sky with crystal water lakes in between. Finally onto Copacobana beach with its mighty breakers, crashing onto the shores, as they have done for thousands of years, assaulting paradise, relentlessly turning rock into sand, with the texture of soft brown sugar. Amongst the exploding waves, spray and rip tides, sugarloaf mountain rises up majestically in the clouds like a mighty God in search of heaven.
Upon arrival at our Hotel we experienced a few teething problems, such as a small step at the entrance, and a lift too small to fit my mobility scooter in. However, though tired and a little bit overwhelmed, even I knew that these difficulties were not insurmountable. Adaptation is the name of the game! I used by wheelchair in the lift, leaving my mobility scooter in a locked room downstairs, and my strong men, helped lift my scooter up the little step. We were paying £30 a night per room at this hotel. The slightly more posh and more expensive hotels, costing around £60 per room, appeared to have better facilities to cater for disabled Guests.
The next minute (by this time it was around 11am Rio time), I found myself crossing a hugely busy road and being carried onto Copacabana beach in the glorious sunshine. I crawled down to the sea and the breakers swept over me, causing me to scream out-loud in delight. This, along with the views, is a great tonic for jet-lag! Steve had a lot of fun bartering with a lad who was trying to sell us Copa- beach towels. It was amazing how humour can overcome any language barrier. After some 20 minutes of laughter we sealed the deal and bought one for $10 (US).
When on Copa beach you have to keep an eye on your valuables at all times. We were doing just fine with this until a sudden HUGE wave swept up and over all of us soaking us and all our things. In the ensuing chaos, a man, trying to be helpful moved my wheelchair back, which had our camera bag hung on the back of it, but he then left it unattended!!!
Everyone's attention was on salvaging wet towels and clothes, except, thankfully, my Steve's, being a former CCTV camera operator in Tesco. Realising that this was a perfect opportunity for any thief, he looked up towards the wheelchair and saw an unusual movement and sensed that something was wrong. "Where are the cameras?" he said, and within seconds ascertained that they were gone!
The next minute I saw Steve chasing up the beach after a drink-seller, the only person walking away from the scene at a quick pace. He caught up with him, opened his white drinks box, retrieved the camera bag (with cameras worth some $1000), and grabbed hold of the cowardly thief, who at this stage just wanted to leave the scene. With no policemen in sight, and frustrated at this, Steve opened his drink box again, took a bottle of water out for me, asked him how he liked it, and then smacked him one!
The thief hurriedly scurried away, tail between his legs, followed by a few Yorkshire accented expletives, advising him of what would happen if he returned. Steve turned around, walked back announcing to the world "At least I got a drink out of it", and someone said "Good punch".
I was in shock. It all happened so quickly, and I felt very grateful to my Steve, for saving the day like that! Since that day, Steve has become known as my own personal Mugger-basher!!!
That night we found a wonderful local cafe, called The Grill. I was concerned how on earth I was going to mange to stick to the Best Bet Diet on this trip, and had decided that it would probably not be possible, but this cafe was ideal. We ate there every night! There were salads, rice, fish, chicken, potato and fruit and well as plenty more dishes, pastas, meats and puddings. Ideal for me, and on average a good meal cost £2 (you paid by weight per 100gs). We even got free freshly squeezed orange juice with vouchers our hotel gave us. With this, the hotel buffet breakfasts, with a vast array of fruit on offer, and with a few carrots, apples, rice cakes and nuts to see me through the day, I managed to eat very well indeed.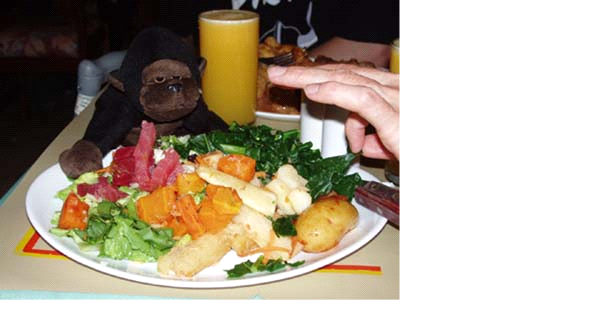 The next day was rainy (it was the rainy season) so we relaxed in the hotel and went out exploring a few shops. I found the begging on the streets heart-breaking, and we gave them a few Reais (5 Reais = £1) so they could at least get something to eat. The following day was brighter again so we found a lovely taxi-driver, called Antonio, who drove us all the way to Corcavardo, at the top of the mountain where the famous statue of Jesus is located. It was a very steep, bendy, hair-raising drive up there. Once we disembarked from the taxi. I needed the toilet urgently and was whizzed through the crowds very efficiently to the disabled toilet. After this I found myself being pushed onto two escalators with great ease, and complete safety, and then suddenly there I was staring at the hugest and most magnificent statue of Christ with his arms stretched out, over the backdrop of the most stunning views of mountainous Rio.
We then travelled onto Sugarloaf, where we took two cable cars to get to the top of this mountain. The views of Rio and Jesus on the hill (this time tiny) were awesome.
There were a few steps at the entrance which I managed to climb on the way in, but otherwise the disabled access was very good here too. On the way down, I was too hot, tired and hydrated to manage the steps, but even before we asked for help, I found myself being carried down the steps in the wheelchair by some strong Brazilian men. Out trusty taxi-driver, Antonio, was patiently awaiting us, even though it has taken several hours to mount and dismount Sugarloaf. He took us back to the hotel and we paid him the £24 for the day which we had arranged with him, and gave him £6 extra. That worked out as £5 per hour, which may not sound a lot but it makes for a good living in Brazil. I still found it odd effectively be hiring your own personal chauffeur for the day.
The next day we rested again. I did not feel very well, but my brother reassured me that I had probably just got dehydrated the day before, and provided I ate and drank plenty all would be well. Steve soon learnt this mantra, which truly did reassure me, "Plenty to eat and drink and you'll be fine".
The next day we embarked on the most intense and insane travelling schedule I have taken on with ms to date. We got up at 5am and Antonio took us to the airport. We then flew with Air Varig (Brazilian Airways) to Lima, the capital of Peru, via Sao Paulo. The beautiful Air Stewardesses, especially Anna, were most helpful, and I started to fly with what my brother calls "Air Sylvie". If there were steps to climb on or off the Varig Aircrafts, and if I was too tired to manage them, I found myself carried down, surrounded by strong Peruvian men, as if I was Royalty. They certainly knew how to make my life easy and treat people with a disability very well. In Sao Paulo airport we were amazed to see massage chairs were set-up and I enjoyed a quick 15 minute massage for $10, which was very, very good indeed.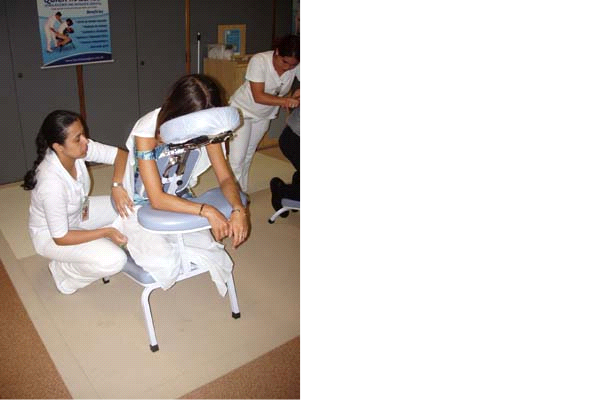 In Lima we were met by a tour minibus, sent just for the 3 three of us, which handled our baggage, scooter and wheelchair, no problem. The first thing that strikes you about Lima is the smog, a mixture of smoke (pollution) and fog, a thin layer of cloud continually hanging over this Capital City. Due to the coastline being so narrow with a mountainous back-drop the cloud gets trapped and legend has it that it never rains here, and that some houses have even been left without roofs. On the way to the hotel we travelled by the coast and saw poverty-stricken Peruvians collecting rubbish off the dumps there to sell to make some kind of living, a shocking sight. To then arrive 10 minutes later at a very posh hotel was very disconcerting for me.
After a rest, we ventured out and found another local cafe. We were met with helpful, friendly, smiling people, who could not help you enough. In spite of the language barrier we managed to figure out what we could order with much miming and laughter. Being somewhat nervous about what I ate, how the food was washed and prepared etc. I stuck with cooked fish, broccoli and rice, which was delicious.
We also had our first taste of Inca Cola, a delightful Peruvian soda with a lime flavour. After this we visited a couple of shops. Little lads begging on the streets tore at my heart-strings. We gave them some change and they ran away delighted. By this time I was exhausted so we retired to the hotel . I collapsed in bed, my head buzzing with the events of the day and eventually fell asleep.
The next day involved another early start with breakfast at 7am, then onto the airport, where we took the short flight to Cusco. In contrast to Lima, Cusco had a healthy red glow about it, the statues, the buildings, and Mediterranean feel to the place. The weather changes very quickly here too. We arrived it was raining but by the time we emerged from the airport we were met with brilliant sunshine.
Steve disappears to check out a few craft-stalls and came back to our minibus moments later wearing the most wonderful leather Inca Peruvian hat (£6), adorned in many, many beautiful necklaces (Only $1 each) and followed by a whole bunch of craft sellers! We bought some Coco leaves to chew, which helps you to adjust to the high altitude (3 400m above sea level) and then set-off to our hotel.
Upon arrival at our hotel we were told to lie down for a few hours in our hotel rooms, drink plenty of Coco tea (available in reception), and chew on the Coco leaves.
This we did throughout our stay here and though I know not how, I have to say that this did help with the altitude sickness. There were steps at the entrance to the hotel but by this stage I was used to getting around such minor obstacles. It just was not a problem especially as there were always plenty of people around ready, eager and willing to help us in anyway they could.
We went out to explore Cusco in the late afternoon (which was actually early evening, 3 hours later in Brazil, making for an even longer day). I was totally unprepared for the reception we were about to get upon exiting the hotel. We were literally mobbed by craft-sellers, pushing their wares in front of our noses, and begging us to buy things with pleading eyes. Being on my mobility scooter made it all the harder for me, as I was down on their level. Also they had never seen anything quite like a scooter before, and it was such an unsettling feeling to be viewed as such a rich and privileged person.
We bought a lot of lovely things over the course of that evening. Inexpensive beautiful wares, finger puppets sold by little children, purses, wallets, rugs, Peruvian pipes music, gloves, alpaca jackets and cardigans, a fluffy Llama and an Inca chess set. We did almost all our Xmas shopping all in one go!!! Everything was very cheap and it was beautifully crafted stuff.
A little lad called Mark Anthony, after selling me postcards, took on the role of body-guard and bag-carrier for us. He was well tipped by all of us very generously for his efforts and his honesty (with so many bags it would have been easy to rob us).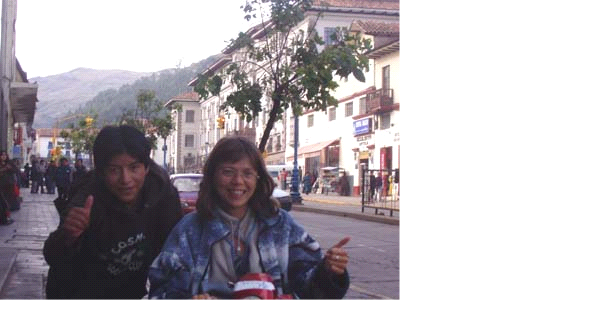 We travelled down the road away from the insanity, and after trying to lift my mobility scooter up and down many a pavement, decided it was far better for me to drive carefully on the road with all my minders! Further on we found a much quieter market, a real sanctuary for me.
After managing several hours of shopping and giving small change to small children, the effects of the altitude, my exhaustion and that MIND-BLOWING NIGHT, took their toll. I scooted back to the hotel knowing that I had pushed my body way beyond my LIMITS, and my MIND had been blown way beyond OBLIVION. My head was spinning and my mind was racing. I packed what I would need for the next day, which was to be the most challenging day of my entire life to date.
I lay down and tried to sleep but started to shake, maybe it was exhaustion, the altitude, anxiety and just being run-down, but what I was feeling reminded me too much of what happens when I get a UTI I was very scared. I knew that I had to be sure that I'd make the long trip to Machu Picchu the next day, so I choose to take my emergency supply of antibiotics, which I always carry whilst abroad, to treat any such infection.
I am always very reluctant to take antibiotics because of the effect they have on gut health, and the knock on effect this can have on MS, but in this case I felt that the "quick-fix" was necessary. It was impractical to drink vast quantities of water, and I had to ensure I was well enough to make this trip! Even if I had misdiagnosed the UTI, I felt it was better to play it safe than be sorry. After all I had started to self-catheterise on this trip, to give me some relief in managing my bladder, and some of the toilets I had to use to do this on this trip were to be far from ideal. At least this way I could do this procedure with greater peace of mind. Whatever was wrong with me I was in a mess and needed that security.
That night I had a touch of the runs and started with a cold too. However once I stopped shaking (and stopped panicking too no doubt) I may have slept a little.
At 4.30 am we awoke for breakfast (pretending it was 7.30am still on Brazilian time, helped us feel it wasn't quite so early!). I was still too shaky to even manage to raise a cup to my mouth, but with much reassurance from my caring brother, I set-my mind determinedly on the task ahead, which started with ride to the train station, followed by a 4 and a half train journey to Machu Picchu. I don't know whether it was the antibiotics kicking in, the lowering in altitude going down to Machu Picchu (2,350 meters above sea level), or simply a strength from some higher power, but on the train journey I began to feel a bit better and stopped shaking. The mountainous countryside we travelled through was awesome and the journey passed pretty quickly. We then had to take a bus up into the mountains to reach our destination.
The first obstacle we were met with, however, was some steps and cobbled uneven ground. As it was a gloriously sunny day, I was also immobilised by the heat.
None of this was helped by the fact that no plans had been made to help us at all, and the guide we were supposed to be booked with disappeared off into thin air. At this point I must admit wondering whether I'd bitten off more than we could chew with this trip. I felt like such a burden on Steve and Matthew. However, after a quick moan about the situation, Steve went off to try to get some help, and returned shortly with a strong little Peruvian man called Frank, who saved the day, by carrying me on his back all around Machu Picchu!!! Steve and Matthew handled the cameras and wheelchair, which we used on any flat paths, but whenever we were met with steps, which was often, I was carried by my saviour Frank!
Machu Picchu, discovered on 24th July, 1911, by an American Professor, Hiram Bingham, is a majestic, ancient ruin, hidden in the remote Andes, north-west of the city of Cusco. This 15th Century Inca citadel is arguably the outstanding highlight amongst both the natural and man-made wonders of the entire South American continent. This sacred City is built between two sharp peaks, in south the Machu Picchu (ancient or old mountain) and North the lower Huayna Picchu (young mountain), and hides the secrets of the Incas and their worship in temples, and ritual sacrifices.
It is hard to comprehend how they could live in such a beautiful place and yet kill their chosen victims, cutting their hearts out, in the belief that this would appease the Gods, they worshipped, the sun and the moon. Now what is sacred about that?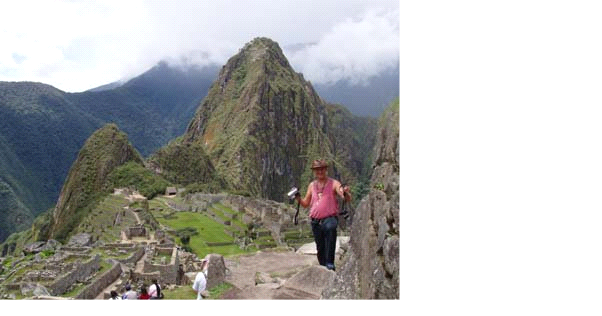 To actually be visiting these well preserved ruins was totally UNREAL to me. Llamas grazed on the grass and popped their heads through the stone doorways. The sun shone down, giving us glorious views, with mist hanging around the vast, and unusually shaped mountains. Though the heat was debilitating I simply coped. There was too much to see and take in not too.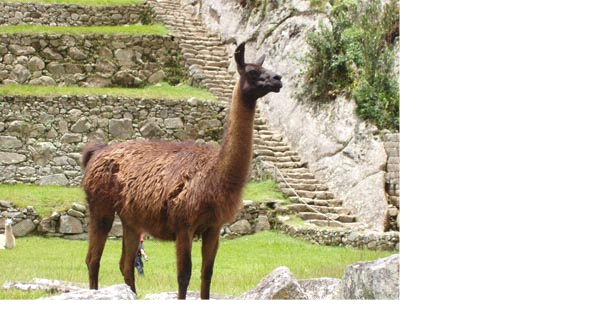 As soon as we made our way back to the Lodge at the entrance, the clouds rolled in and it began to rain. We then enjoyed a magnificent buffet in the Lodge, though at such altitude our appetites were quelled, before taking the bus back down the mountain. A young Peruvian lad dressed in costume played the pipes and drum, and sang on the way back down, and was rewarded with tips.
At the train station many more crafts were on sale. I bought a beautiful Machu Pichhu rug there. On the long train journey back to Cusco, we were entertained by the staff dressing and dancing in Peruvian costumes, and then modelling quality clothing, which they later tried to sell to us. This was fun.
Once back in Cusco, we returned straight to the hotel and retired. That was one HUGE DAY IN THE LIFE OF SYLVIE BROWN, BUT I F****** DID IT!!!
The next day we had a lay-in, well relatively, as we had breakfast at 7am! We then flew back to Lima that morning. I was so happy to be able to breath easier again, even if it was SMOG! Later on that day we explored Lima, and did more shopping.
We found an Indian Market, and Steve spotted the most beautiful Peruvian Poncho, which I tried on. It really was lovely, and when the lady put the fluffy hat on me too, Steve decided that I looked so fabulous that he bought it for me immediately (it was only £18). I wore in scooting back to the hotel and I will never forget the way everyone stared at me. Some men whistled too. I think it was the combination of the Poncho, and me on my mobility scooter. One policeman even took out his whistle, blew it, saluted and then waved me by!
Sylvie the Peruvian Princess had been born!!! The smile on my face was a picture!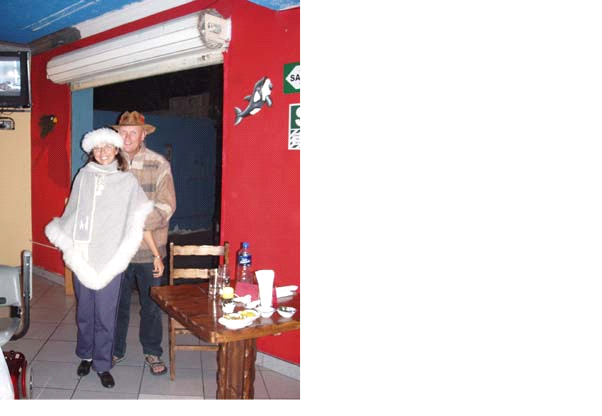 After a rest we went back to our favourite local cafe. My appetite had suddenly returned with a vengeance and I swear that the broccoli, fish and potatoes I had that night, were cooked to perfection and made in heaven! I will never forget this simple but delicious meal! The boys were a bit more adventurous and had a Barby!
Early the day we were on the road again taking an early afternoon flight via Sao Paulo again, back in Brazil again and on down to Iguassu Falls. As we lost 3 hours, by the time we arrived at our unbelievably posh hotel, and settled in in was 2am local time. We slept like logs and somewhat reluctantly emerged bleary eyed at 8am for breakfast.
We were driven over the Argentinean border, and could not help but notice how far less friendly and smiley the feel of the place was compared to Brazil and Peru. Our Guide explained that this was what this Spanish people were like. In fact for many years they considered themselves to be superior to the rest of South America, and not a third world country, which made the economic errors made by the government, which wiped out their economy even harder to swallow. The skeletons of unfinished hotels are a testimony to this. Now you have got a 3rd world country with a chip of it's shoulders. As you arrive at the border, there is a big sign declaring that "The Malvinas (Falklands) belong to Argentina".
We arrived at the entrance to Iguassu Falls, and found our way onto a little open-air train with disabled friendly little carriages. We were lucky with the weather again. It was gloriously sunny, but incredibly hot (36 degrees Celsius). I felt like I was dieing with the humidity, exhaustion and the cold I had developed. How was I going to get through this day?
I was transferred to a three wheeled, heavy-duty wheelchair and then found myself being pushed for 1 KM along a bumpy metal bridge which was to take us right up to the Falls.
As we got close I shut my eyes, was wheeled right up to a railing, I stood up, and the on the count of three opened my eyes.
The view rendered me totally speechless. I stared in disbelief at the hugest and magnificent of waterfalls. Then suddenly, without warning, the wind blew over our way and the spray from the Falls and drenched us- the RELIEF from the heat was indescribable. Everyone was screaming!
This was the most AMAZING MOMENT OF MY LIFE TO DATE!!!
Without the hell of the humidity I could never have experienced the HEAVEN in that moment, which I will never forget. It encapsulates the essence what this whole trip was like for me, in that the impact, intensity, magic of the HIGHS I experienced, were only magnified and strengthened by the LOWS, the difficulties, challenges, illness, and pain I had to go through in order to gain them. In an instant my exhaustion and fatigue was gone and even my cold felt insignificant.
We travelled onto different vantage points to view the Falls just as glorious but in different ways. In the afternoon we ate in a local Arabic cafe. Once again the humidity was killing me. I took of my dress in the toilets, soaked it under the tap and then put it on again, to gain some relief. Finally we took a helicopter flight right over the Falls. Though only a 12 min flight (for about £30), it was worth it for the incredible views of the whole of the vast, powerful, wondrous, Iguassu Falls. We got some money shots that day!

Back at the hotel around teatime, after a 20 min powernap, we went out into the sunshine to enjoy the large swimming pool filled with "health-giving" thermal waters. Much to our amazement, here we met a fellow Sheffield Wednesday fan, with his Brazilian wife, thanks to the Wednesday shorts Matthew was wearing that day!
I finished the BEST DAY OF MY LIFE, with a luxurious, 1 -hour, full-body massage, which was a real treat that I richly deserved. It cost just £10. I floated back to my room, wearing my posh, white, hotel bathrobe, feeling very pampered, rich and privileged, a surreal feeling, and went to bed. I awoke the next morning totally refreshed and actually ready for breakfast for once!
Before we flew back to Rio that day, we visited Iguassu Falls, this time from the Brazilian side, which is, believe me, just as beautiful. Though a mistier day, the sights to behold were still magnificent. The final vantage point took us right up close to the Falls. As you watched the Falls close up nature only goes and improves on. You see swallows fly directly through the spray to their nests on the rocks behind, obviously a safe-haven from predators (and with plenty to drink too). Isn't it wondrous how animals adapt to their surroundings.
That afternoon we flew back to Rio, arriving in mid-afternoon, in time to catch a few more rays of sunshine on the beach, and to go for a quick swim. It was a relief to be back to more familiar surroundings, the hotel we now called home, and a place where there was good amounts of oxygen, little smog, and a more bearable humidity! Above all a place we could rest and relax and explore at a far slower pace for another 4 nights.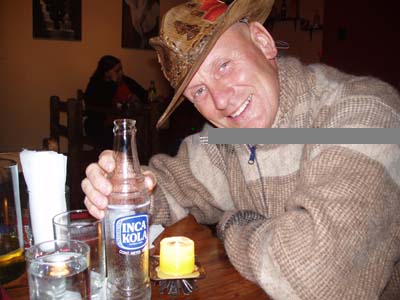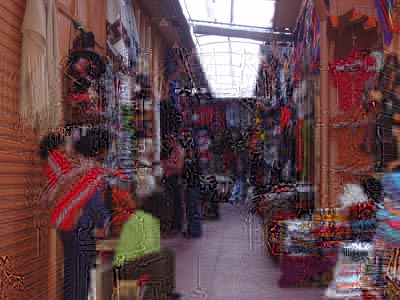 Steve and Matthew enjoyed the views of beautiful Brazilian women's figures on the beach too! for the next few days! They have curves in all the right places (no doubt this has something to do with their diet, which contains lots of fruit and vegetables).
Steve thinks he is Jesus!!!
We took another flight in a helicopter the next day, this time close up to and around Jesus which was pretty scary. The views of Rio, Christ, Sugarloaf, Copa Beach and the mountains were fantastic.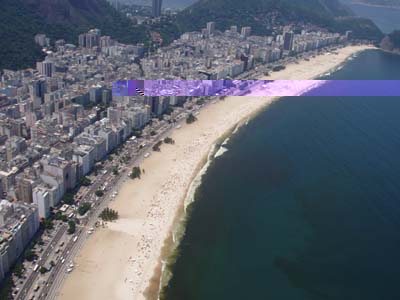 I was very impressed with three disabled people in Rio. One was a limping chap selling Cokes and Water around the markets on the beach front. Steve bought a drink off him. This lad became Steve's hero, and he impersonates his penetrating cries of "Coca, Agua" to this day.
The second one was the disabled man, selling fruit and veg, who seeing me on my mobility scooter waved me to stop and offered me a piece of pineapple to taste. I tried to give him a little bit of money and ended up buying a pineapple which was delicious.
The third once was a heavily disabled man sat on the streets, who could have no doubt made a reasonable got a reasonable living from begging. However, he did not. Instead he sat there doing drawings of fish to sell on the streets of Rio. Total respect!!! I bought one for £3 (15 Sols). That man had a smile on his face and was COURAGE PERSONIFIED.
There were sunny and cloudy times during the last few days, and one day, we were on the beach and saw storm-clouds rolling in before our eyes. It was a mesmerising sight. Then the next minute the storm was upon us. It honked it down and everyone fled for cover!
There was one final challenge for me to meet the night we left. After American Airlines kept us on the flight from 11 am till 4 am with no food or drink, they announced to us that the plane was in fact safe to fly and always had been, but they were out of time and the flight had been cancelled! So we all had to disembark after 5 hours on a plane having gone no where. American Airlines are usually very good, but in this case they handled the entire situation very badly. In a way all this was water of a ducks back to me by now, but I could have really done without the ordeal. By 6.30 am we were checked into another very posh hotel and we managed to get a few hours kip. We emerged around midday and spent rest of day by the pool in a daze but the sun was shining at least and they fed us very well.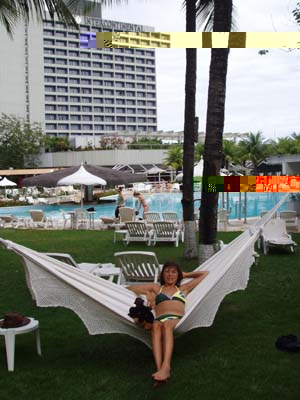 We flew out again that night, only this time we actually got off the ground and the whole flight slept like the dead!
I am now lucky enough to be spending another three weeks in the Florida Keys, a much needed rest after such a MONUMENTAL trip. How do I feel now having survived the trip? I have to admit the whole trip has caught up with me. The combination of the effects of having taken antibiotics, and all the sweet fruit I ate at the hotel breakfast, have caused me to end up with thrush and have been feeling rather shaky, so I know that have some work to do in eliminating candida to re-establish my gut health to ensure stability with ms. But all that can be done, and I can live with these consequences.
Babe on hotel roof. Who is that nutter behind me?
One of the best things about this trip was the fact that took the focus of MS for once. I simply had no time to think or worry about it, I just got on with it, managed it and dealt with it. That was a real break from my usual way of thinking and living and I think that sometimes we all need to have that, BREAK SOME RULES, LIVE LIFE TO THE FULL, OVERCOME OBSTACLES and up to a point for a short time TO HELL WITH THE CONSEQUENCES.
That is not to say that I didn't have a plan as to how I could manage and cope even in the worst case scenarios. (I took antibiotics, probiotics, vitamins, my pipinette pot, nappies, pads, catheters and mobility equipment with me. I make sure I'd had necessary vaccinations and a holiday insurance which covered me for MS). And things did go wrong but we adapted and coped. I took the antibiotics. I used my mobility scooter far less and my wheelchair far more, when the charger popped in Peru. I threw a wobbly when I found I'd left my Pipinette pot in the Arabic cafe in Iguassu, but then I got over it, and we made a temporary one out of a plastic bottle.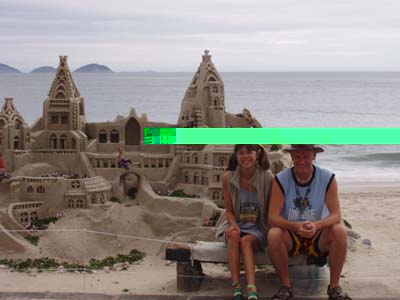 Of course you can't plan for everything, however and a certain amount had to be left to FATE and FAITH. Taking this trip took real GUTS and DETERMINATION but in going on this have gained the most amazing memories, experiences, photos and video, to treasure for the rest of my life. On the day I die, I am sure that I will look and be glad I dared to take this TRIP OF A LIFETIME!
Rotty the Rotweiler and tiny Nicki Monkey somewhat tired after the trip. This is how we felt too!!!
This page was originally posted on the health diaries site, it is still there but also been posted here in case that site disappears, below are the comments that are posted there in response to my diary blog.
I have been told by my GP and other doctors that I have MS. I have to catheterize and when I don't I know it. I have to wear nappies and I get excruciating pain and the pain goes to muscles where I never knew there were muscles. My husband's physio passed the comment to my husband that I haven't got MS despite what my urologist and 7 other GP's have told us. He has never even seen me, or worked with me.
Did you ever have trouble with the doctors being honest with you about your condition? When I speak to them about it-they sometimes hem and haw; although I get more straight answers from the nurse at the urology clinic.
They keep telling my husband to expect things with my condition and then this physio; whom has never seen me makes comments and demands to know the names of the doctors who told me that I have MS.
It is bad enough being ill without somebody who isn't even treating me telling my husband what my condition is, or isn't.
I am seeing my GP on Thursday to update them on the Chronic pain that I have been getting. I fell down this morning. Thank G-d I had grab rails. I hit my knee pretty hard.
1. Posted by rachelkleypassparrow on February 1, 2005